Ref:
Date:
Location:
Photographer:
[clikcontent type=paymentBuyLink replaceable=true]
Ref:
Date:
Location:
Photographer:
[clikcontent type=paymentBuyLink replaceable=true]
Samoa Photo tour June 2018
Arrive Apia, Samoa 4th June 2017- leave Samoa 17th June 2017.
Malo
- Hello.
This is a unique adventure that no one else is offering. A photography and a cycling option, tour of the traditional Savaii and Manono Islands of Samoa. Travel with a professional photographer, Scott Fowler EFIAP,PPSA,APSNZ, who has travelled /cycled Savaii Island many times and knows the interesting back roads , the people, the food and the landscapes. Any level of photographer is welcome on this trip, as I will not be very far away if you have a question/ concern or you want to show me a great image you have just taken. I am here to help.
The Cycling option offers great photographic opportunities of scenery, people and the culture. It is a great way to see and hear how the people of Savaii live. We provide a bus to transport your gear and you, from place to place and you and your bike if needed. An electric bike is also an option to help you up the hills.
There is so much to see that you will seldom ride any distance without stopping to take a photo or just to chat and maybe interact with the people especially the children, we often hear the beautiful people of Savaii singing, either at school or on their way to church. You will see the village activities, a large lava field and remarkable beaches, the pigs and chickens will make you smile. Even on riding days you will generally have the afternoons free to read, snorkel and explore or just enjoy a drink on the beach outside your fale or motel unit. We can spend the evenings sharing our images from the day.
This will be a small group of the brave and adventurous, the emphasis is on enjoying ourselves, making the most of the photo opportunities in a very relaxing environment.
Follow this link for more images of Samoa.
Samoa Gallery
On our return we will each choose 15 of our favourite photos and we will combine them to make a book of the trip, this is included in the price!
Day 1 - Arrival Day
Step out of the plane onto the Treasured Isles and enjoy the airport welcome.
Transfer is provided from the airport to Airport Lodge - Garden Bungalow with Fan - Breakfast included.
Day 2
Get fitted for our bikes and have a short test ride before setting off. Ride the 3 km to the Ferry terminal whilst our gear is transported. The crossing takes 70 minutes and we will be met by our support driver at the wharf ready to begin the tour of Savaii.
Ride the 19kms to Lano stopping frequently in the villages.
We will stay in traditional Samoan Fales which are built right on the beach. It has a very safe and gentle coral sand beach with plenty of coral outcrops near shore in shallow water. It is an ideal place to snorkel.
Joelan Beach Fales - Dinner, Breakfast included.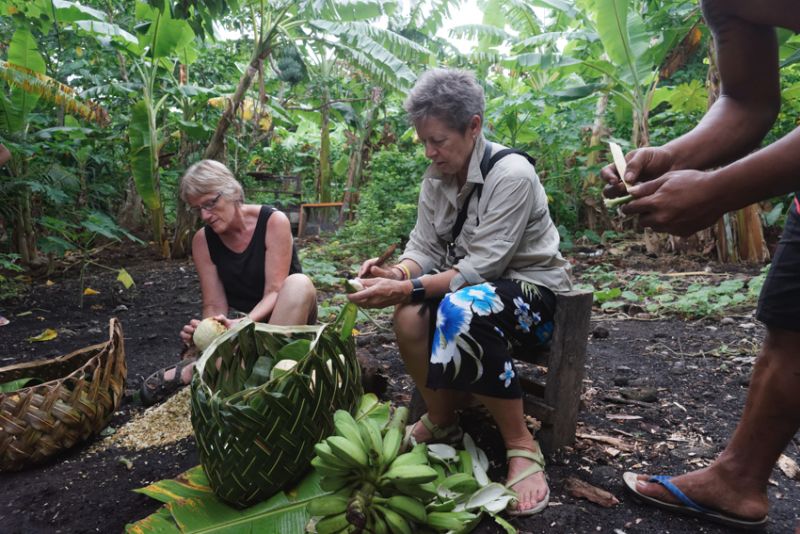 Day 3 - Lano to Manase (35 km)
A 35km 'mostly' flat ride with stops for the lava field and interesting villages. Check out the Lava church with a metre of lava across the floor from the 1905 - 1911 volcanic eruption. (5 Tala)
Vacations Standard Fales - Dinner, Breakfast included.
Day 4 - Manase
There are lots of activities to choose from. We hope to visit the local pre-school and get to see the oldest Catholic church in Samoa. Snorkeling is easy here and if you're lucky you might get to swim with a turtle (or 2) in the bay right out side your Fale.
Standard Fales - Dinner, Breakfast included.
Day 5 - Vacations to Va-i-Moana (37 km)
A bigger riding day, there are a lot of ups and downs (approx total 400m) and it is a tougher day. However remember the support bus is there if you need a ride to the top of the hill or you have just had enough. We will stop at the lava tube (Approx 5 Tala) near Aopo where we will have lunch (10 Tala) and walk through forest and plantations to the tube entrance. We will need to have our headlamps handy for the caves. Afterwards you can stop for a swim at the freshwater pools at the bottom of the hill at Asau or continue only another 10mins cycling to the Va-i-moana resort.
Va-i-moana - Lockable Fale (option to upgrade) - Dinner, Breakfast included.
Day 6 - Va-i-Moana Day - Visit Falealupo. There is a rain forest walk, house of rock and Church ruins (All 3 activities 20 Tala), you may even catch a game of 'Kilikiti' - traditional Samoan cricket. Falealupo has good snorkeling (5 Tala). You can either travel there in the comfort of the bus (approx 60 Tala each) or the more energetic can bike there. It takes around 2 hours to bike and has quite a climb each way.
Va-i-moana - Lockable Fale (option to upgrade) - Dinner, Breakfast included.
Day 7 - Va-i-Moana
Kayaking here is easy and offers great photo opportunities, and surprise! it's free. Kayaks are supplied by the resort. If time permits we can take a short bike ride to Vaisala over a small hill to the next bay for some more snorkeling and/or lunch at the historic old Vaisala Hotel. No pressure though, if you want you can just relax on the beach and read a book, have a drink from the bar or swim in the bay. Swamped for choice!
Va-i-moana - Lockable Fale (option to upgrade) - Dinner, Breakfast included.
Day 8 - Va-i-moana to Manase (37 kms)
Retrace our route back to Manase enjoying all the downhills that were uphill in the opposite direction. This is another tougher day with a slow grind to start, the bus will take you to the top of the hill if you prefer.
Vacations (Manase) Standard Fales - Dinner/Breakfast.
Day 9 - Manase to Lusia's Lagoon in Salelologa (52kms)
A gentle day cycling to Lusia's Lagoon. If we missed seeing the Lava church on day 3 we can stop on the way back. We stay at Lusia's Lagoon for three nights.
Lusia's Lagoon Resort - Lagoon View (Motel style) - Breakfast included, Dinner not included but cheap and affordable meals available.
Day 10 - Lusia's Lagoon
Enjoy breakfast on the jetty. We can visit the market, check out the local shopping, swim, snorkel .... the day is yours to do as you please.
Lusia's Lagoon Resort - Lagoon View (Motel style) Breakfast included, Dinner not included but cheap and affordable meals available.
Day 11 - Day tour to blow holes and Afu Aau waterfall
All attractions are open today, we will take the van and explore the South Coast . The Afu Aau waterfalls are a cool retreat and stunning spot. The blowholes are always spectacular. We will visit the Satuiatua fales, good beach and snorkeling and refreshments are available. (Fees all up total about 15 Tala)
Lusia's Lagoon Resort - Lagoon View (Motel style) Breakfast included, Dinner not included but cheap and affordable meals available.
Day 12 - Lusia's to Manono Island. Bike the short distance to the ferry for the crossing back to Upolu. Once landed your gear will be transported back to the Airport Lodge whilst you bike the short distance. Return your bikes and catch the transport to the Manono Island ferry. It's a short boat trip across to a very magic location. One of Samoa's little known treasures.
Sunset View Fales - Lunch, Dinner, Breakfast included.
Day 13 - Manono Island Day
Manono Island is a tranquil place with no dogs, bikes or cars. It takes a leisurely three hours to walk around the coastal track passing several palm fringed beaches. You may also be lucky enough to see flying foxes hanging in the trees. However, the islands greatest attraction is its simple lifestyle and the opportunity to interact with the locals and learn about their life of planting, weaving, fishing and relaxing. There is a small snorkeling trip out to the reef, a traditional umu for our evening meal on our second night and a basket making demonstration all included in the price.
Day 14 - Manono Island to Airport lodge - After breakfast catch the ferry back in plenty of time to catch your flight.
Accommodation Notes over all:
The fales we stay in can be best thought of as comfortable camping style. They have good waterproof roofs, solid wooden floors, matting sides, mosquito nets, bedding and mattresses. Bathrooms are generally shared and dining is usually from a limited or set menu. The locations and the hospitality often make these the magic nights of the trip.
Motel standard accommodation provides motel/hotel like rooms generally with ensuite facilities, fans or maybe even air conditioning.
Most accommodation is shared unless you have requested single accommodation (additional $170 see below). While we do our best to accommodate this please be aware at some venues single rooms may not be possible.
Costs - $3540NZD per person
Single accommodation (where available) is an extra $170NZD per person over the whole tour.
Included: All Accommodation while on tour, Support vehicle, Bicycle, Ferry Fares, Breakfast, Dinner and Lunch where indicated. All tuition from me if needed, an experienced, patient & knowledgeable teacher.
Not included: Flights, Travel Insurance, Dinner and lunches unless indicated, Additional tours and customary fees (these can range from 5 to 20 Tala), All alcohol, snacks, soft drinks etc, Room upgrades where available.
An approximate cost for meals is 25-30 Tala, not including drinks. There will be approximately 11 lunches and 2-3 evening meals to pay for, plus a possibility of a traditional umu complete with pig for 70 tala per person if everyone is agreeable. It is a great opportunity to see family life behind the scenes.
Other costs may include WiFi where available, (approx 20 Tala for 2 hours) also the water is not safe to drink so bottled water has to be bought.
.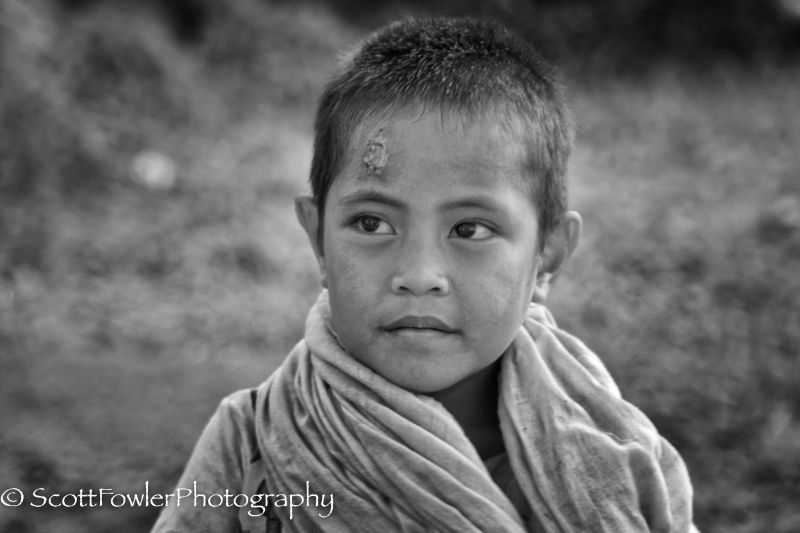 "Scott Fowler Photography" shall take no responsibility or liability for personal or property damage/loss during the duration of the Workshop, or be liable for any Airline tickets.
"Scott Fowler Photography" reserves the right to cancel Workshops one month prior to commencement if numbers are insufficient or due to unforeseen circumstances.
Come on in the water's fine!
FAQ -
Is the cycling hard
- Yes some of the cycling days are tough, the support bus is there to carry extra water and you and your bike if needed. Getting your bum hardened to riding is the critical part of the trip. Good idea to do this several weeks before the trip.
Can I use my credit card in Samoa
- Bring CASH, fold up notes, (US dollar worth 2.2 tala, Kiwi dollar 1.6 tala) easier to exchange to Tala when in Samoa. Some places and ATMs accept Master card and Visa, however they don't always work and will include a fee, cash is easier.
Is there a departure tax to leave Samoa -
NO departure tax.
Are there any poisonous insects etc
- No poisonous beasties on Samoa, there are Mozzies but not a problem if you bring plenty of insect repellent and anti histamine if you have allergies.
Is it hot -
Yes it is, we try to do all the riding in the morning to avoid the heat of the day. Day temperature ranges from mid 20s to mid 30 degrees C.
Is it Safe -
We have now done three trips to Savaii Island and never had any trouble, and have always felt safe. The people of Savaii are friendly and helpful. Dogs on Savaii are usually well trained however sometimes there is an exception to the rule but we have never had a serious problem with them.
What are the bikes like
- They are a general road bike with a good granny gear, you can bring your own seat & pedals if you want. Handle bar bag and panniers are available to hire if needed. The handle bar bag and one pannier are very useful, an extra 50 Tala for the whole trip.
Are there hot showers
- Most places the showers are just cold water, however the water is not too cold as nothing is unless in the fridge, Lusia's Lagoon and Airport Lodge do have hot showers.
Is it Safe to Swim
- You are inside the reef at all the places we stay, snorkeling is interesting and a great place to give it a go. Water is warm and lovely to sit and relax in after the bike ride.
Do we need Vaccinations
- Tetanus is advised. Malaria is not considered a problem. W.H.O. says the risk for diphtheria, mumps, measles, rubella and polio are of no greater risk in Samoa than they would be at home.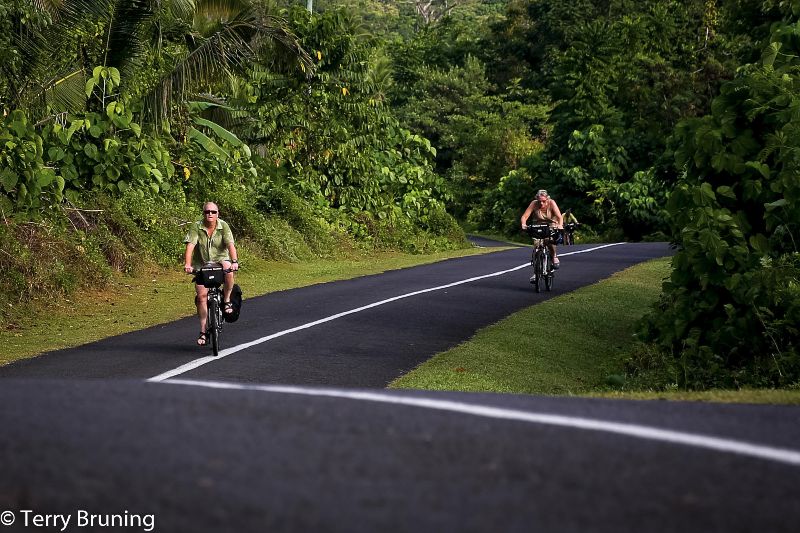 Testimonials:
I am a part time photographer and a part time cyclist looking for adventure.
Scott's Samoa trip was great, - enough cycling and walking opportunities to satisfy my need to keep active and photo opportunities galore – people, landscapes, nature, food etc. The trip was organised but flexible enough to cater for individual needs. I thoroughly enjoyed every minute (well, maybe not all of the hills J). Immersion in a very different culture amongst the tropical landscape, warm weather and friendly Samoans will be a lasting memory. Scott is a great host, top photographer and very willing to share all of his tips and tricks – its all there for the asking. He is great to travel with. I thoroughly recommend this trip to anyone who wants something a bit different – you wont be disappointed. Thanks Scott
Sharlene Evans
I have done several workshops with Scott Fowler, including the Samoan Photo Cycle Tour.
Scott has a wonderful ability to accommodate a variety of photographic levels within a group and has never made me feel inadequate if I ask what may seem to others, a basic question. He is well organised and professional but also able to laugh with the rest of the group. Along with his extensive knowledge of photography and post-processing, he is an able teacher and manages to adapt his teaching style easily to the workshop attendees. Scott has a wonderful sense of humour and it was an absolute pleasure spending 2 weeks with him and the group on our recent Samoan trip.
Julia Home APSNZ, EFIAP
Samoa - untouched unspoiled a photographers dream. This cycle/ photography trip included a sense of adventure capturing the essence of Samoan life as we cycled through villages with children shouting hello to us and bye bye. Who can resist those big brown eyes !!!
Samoa is not for those that can't live without their coffee fix its very rustic down to earth Island living and hot. A beautiful time so many reminders of humanity and just being grateful for life. Go challenge yourself you won't regret it.. Heidi Anderson
Scott your guide with a Samoan Mother and Son.
Tofa - Goodbye